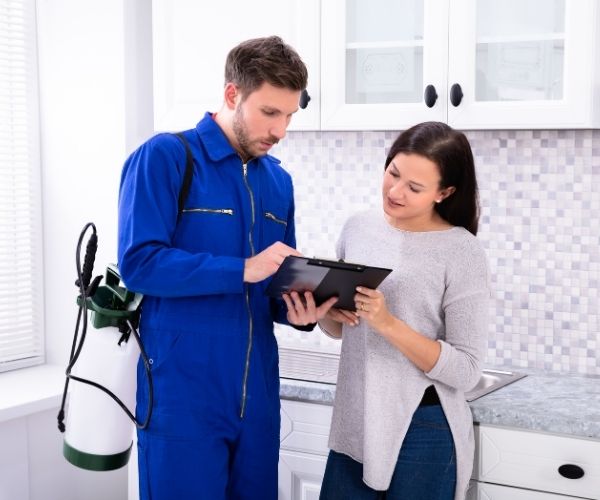 Local Exterminator To answer your common Pest control Questions
Not all Salem IL exterminators are the same. As a result, their service, pricing and value vary greatly. Here are a few recommendations when deciding who to go with.
Don't shop solely based on price. Everyone wants a good deal. But what if you still have mice or rats in the house? Or your dog gets sick because the technician does not use a Eco-Friendly product? Then it probably wasn't worth going cheapest pest control company.
Choose an exterminator that stands by their work. If you are not satisfied with a service, you should be able to get the issue resolved without paying twice. Make sure satisfaction is guaranteed!
Education over making a sale. If they are more interested in making a sale than educating you about your pest problem, they might not have your best interests in mind.
Finding the right exterminator for your pest control shouldn't be difficult.  Be sure to ask questions and look at their online reputation. Check places like Google, Facebook, and Yelp. Those will help you determine if the pest control company you're interested in does what they say they will do. You want a company that has great reviews and a great reputation.  Also, be sure you feel comfortable with your pest control company.

Are your products safe for pets and the environment?
All our products are rated for residential use, commercial use, or both. Southern Illinois Exterminating Company strictly adheres to the EPA's regulations on storing, mixing, and applying pest control products. A products label is the law! When applied properly, our products are proven safe and effective.
Do I always need to at my house for my service?
No. However, we are happy to treat inside your house at no extra cost. Because the vast majority of infestations start outside, that is our main area of focus. Just ensure your gate is unlocked and potentially protective dogs are secured. Our technicians will take care of the rest!
Termite Control Mt Vernon IL
You should plan to have your home inspected for termites once a year. Termite Control is an essential part of pest control. Termites in Illinois are found valley wide and its not a matter of if you get them, but when. Our technicians are trained to spot termite activity during your regular pest service as well, giving you an early warning.
How often should my home or office be treated?
The frequency of Salem IL Pest Control treatment is related to the level of pest activity. The area is full of pests, some of which are difficult to control. It is recommended that your home or office be treated every other month, or even monthly, depending on the level pest activity. We offer a range of service intervals.
My house was sprayed why am I still seeing bugs?
Regular, professional exterminator services are the best way to get rid of unwanted pests. However, gaining control of a pest population takes time. Eliminating their food source, flushing out their nesting sites, maintaining a chemical barrier; these are all vital steps in breaking the life cycle of the target pests.
What can I do to limit pest activity in my home or office?
Pest control is a team effort. Look for conditions around your structure that may be contributing to your pest problem. Replacing that worn weather stripping around your doors or moving that pile of wood away from the foundation can go a long way in controlling unwanted pests.
Contributed by: laststoppestcontrol – Foremost experts in Pest control